Translation Management
is a WPML add-on which allows working with a team of translators or translation services. Also, it allows you to translate content designed using the new WordPress Block Editor (Gutenberg project).
Using Translation Management
After you activate the Translation Management plugin, WPML will guide you through a quick setup wizard. The wizard will help you choose who will translate your site and which translation editor to use. WPML offers you several
tools that your translators can use
.
Once you're done with the setup, you will see the
Translation Dashboard
. From here, you can send content for translation.
Sending pages for translation using Translation Management Dashboard
Translation Dashboard screen includes sections for
content filter
,
content list,
and
translation controls
.
Use the filter to choose which content to show in the list.
Select content that needs to be translated from the list.
Choose which languages to translate into (or duplicate).
Add to the translation basket.
You can repeat this process several times before actually sending the content for translation. In this way, you can collect content from different parts of the site and send it for translation in one batch.
When you have finished adding content to the basket, click on the
Translation Basket
tab. This is similar to the checkout step on eCommerce sites.
Translation Basket
Review the content you are sending for translation, choose who will translate (if a language has several translation options), give the batch a name, set a deadline, and then send for translation.
To get an estimate of how much content you are sending for translation, use the
built-in word counter
.
Translating Strings
You will usually send content that needs to be translated from the
Translation Dashboard
. However, sometimes you need to translate texts that do not belong to any specific page. For example, you may need to translate widget titles or the site's tagline.
To do this, use
WPML's String Translation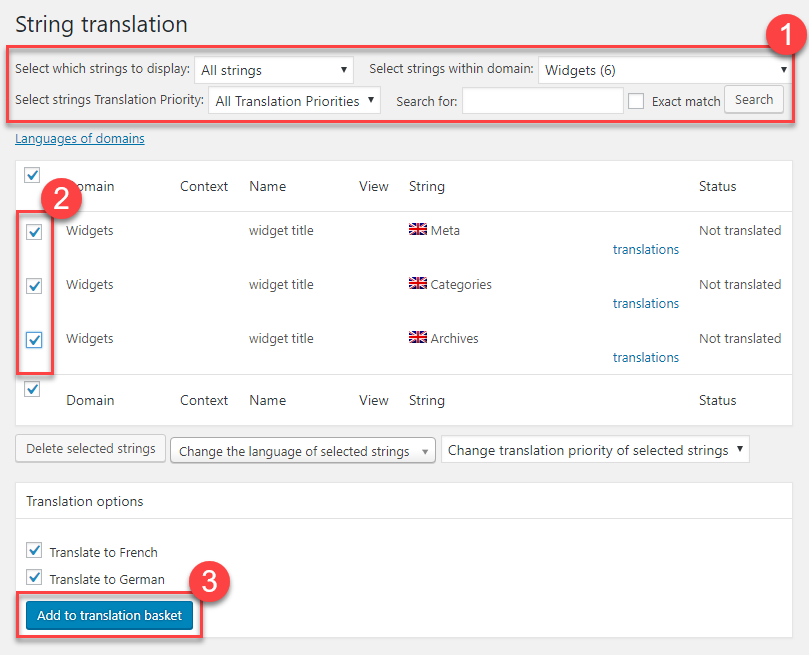 Sending strings for translation
Translating Media
Some of your content will include images and other media. For example, you can have pages with screenshots or attached PDF documents.
Normally, translated content will include the exact same media as the original content. You can use
WPML Media Translation
a add-on to set different media for translations.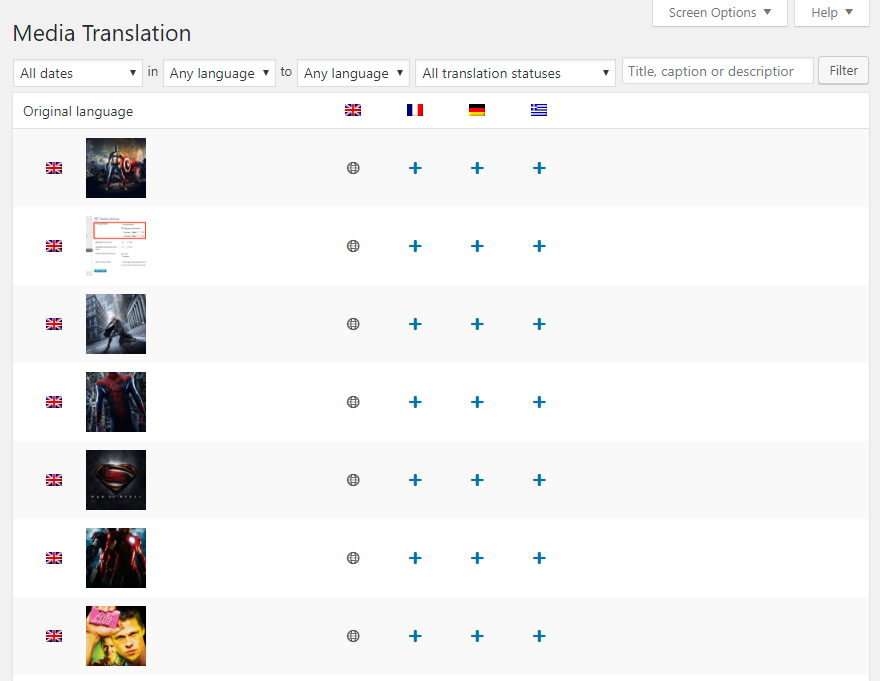 WPML Media Translation Dashboard
How to check the status of translation jobs
You can see the status of jobs that you have sent for translation in two places. The
Translation Dashboard
shows status icons next to each document.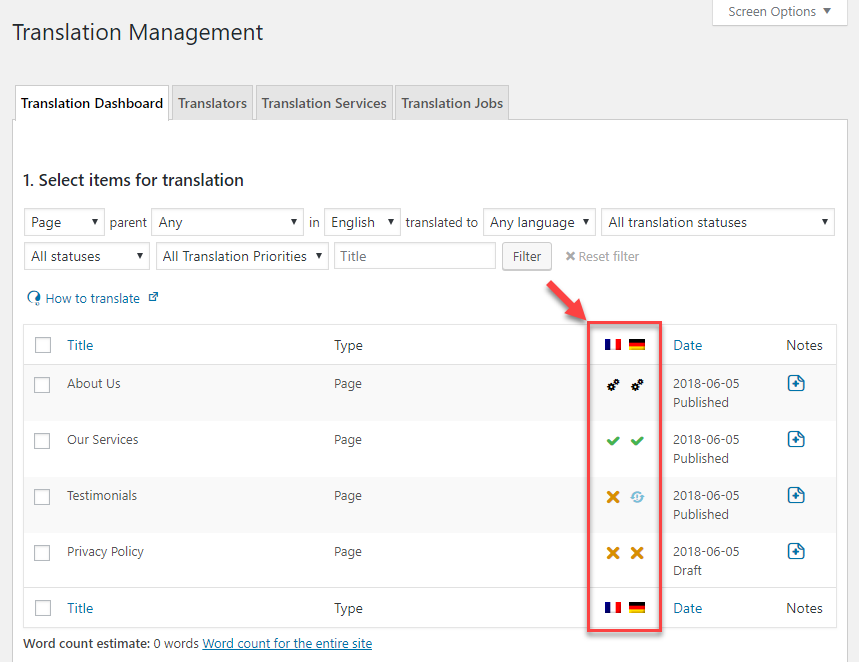 Translation status icons in the Translation Management Dashboard
Icon
Translation status

The content is not yet translated

The content is already translated and the translation is up-to-date

The content is translated, but the translation needs updating

The content is translated, needs an update, and a new translation is already in progress

This icon is displayed only for translation jobs done by local translator. If it is shown it means that translator has not yet started to work on this translation job.
Hover over these icons to see their meaning.
Depending if you have already sent the page for the translation you will see one or two
Actions
icons:
You can attach a Note for the translators into the text field by clicking on the icon marked with the plus sign. A note is then entered into a text field.
The Check status and get translations icon is displayed when the translation job by a remote translator is in-progress.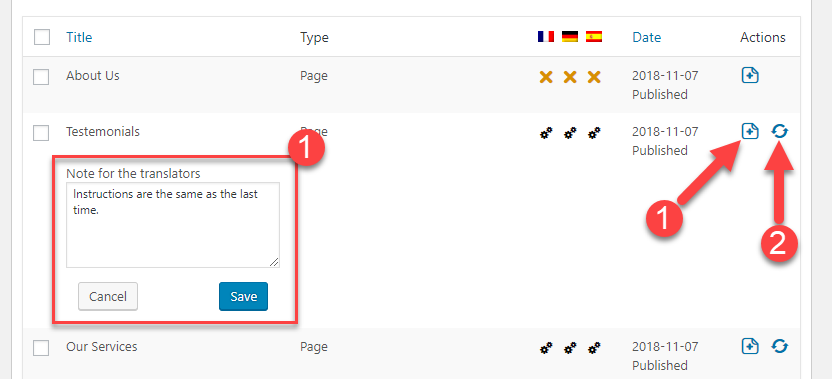 Available Actions
For more details, go to the
WPML
->
Translation Management
page and click the
Translation Jobs
. There you will see a list of all the jobs. You can cancel jobs that you have sent and are not yet under translation.
Translation Management